Zuni Fish and Wildlife
Office Hours
Monday - Friday
8:00am - 5:00pm
---
Leftover Tags
---
2023 Big Game Hunts
2023 Big Game Drawing Results
2023 Zuni Tribal Big Game Proclamation and Application
2023 Zuni General Public Big Game Proclamation and Application
Other Proclamations
---
Big Game Hunt Photo Gallery
Image 1 / 30
Alexander Seowtewa 4x5 Late Rifle Mule Deer
Image 2 / 30
Charles England 6x6 Non-Zuni Resident Bull Elk
Image 3 / 30
Christopher Becenti Youth Cow Elk
Image 4 / 30
Davis Peynetsa Cow Elk
Image 5 / 30
Davy Malie 5x8 Mule Deer
Image 6 / 30
Destry Romancito 4x6 Mule Deer
Image 7 / 30
Eddie Bobelu 4x4 Mule Deer
Image 8 / 30
Gilbert Kallastewa Sr. 5x5 Archery Bull Elk
Image 9 / 30
Jerron Booqua 4x3 Youth Mule Deer
Image 10 / 30
Kailani Etsate 5x6 Youth Bull Elk
Image 11 / 30
Image 12 / 30
Kennedy Peyketewa 4x4 Mule Deer Rifle
Image 13 / 30
Kesean Hughte 3x3 Youth Mule Deer
Image 14 / 30
Image 15 / 30
Kirk Romancito 6x6 Bull Elk - Once In A Life Time Hunt Package
Image 16 / 30
Lauryn Trimble Youth Cow Elk
Image 17 / 30
Leighton Peyketewa 4x4 Mule Deer - Once In a Life Time Hunt Package
Image 18 / 30
Leighton Peyketewa 6x6 Bull Elk - Once In a Life Time Hunt Package
Image 19 / 30
Leighton Peyketewa Antelope Buck - Once In a Life Time Hunt Package
Image 20 / 30
Leighton Peyketewa Cow Elk - Once In a Life Time Hunt Package
Image 21 / 30
Loren Quam, 4x4 Mule Deer
Image 22 / 30
Marc A Shelendewa, 7x5 Bull Elk
Image 23 / 30
Robin Lanyate 4x3 Archery Mule Deer
Image 24 / 30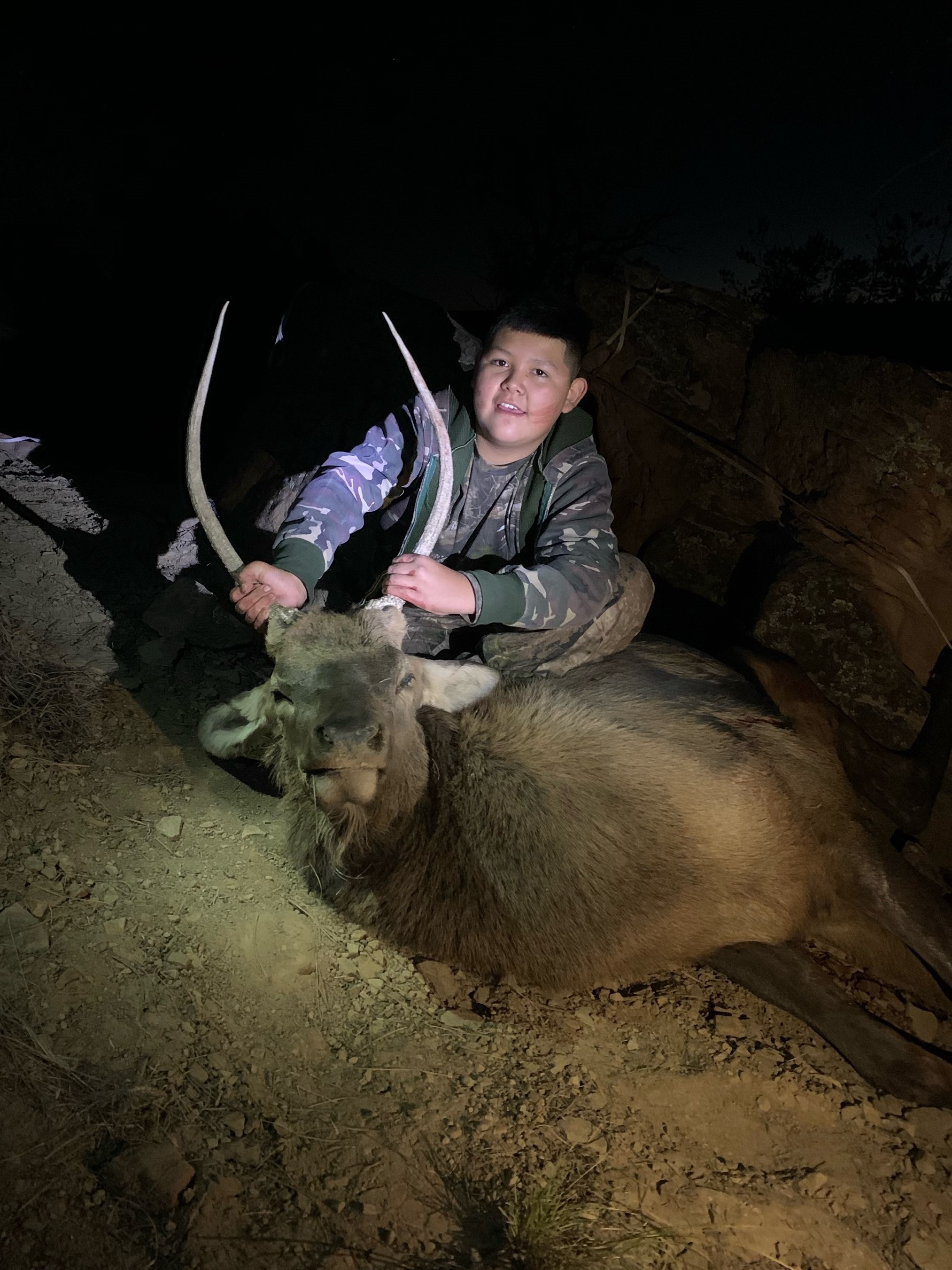 Rory Becenti Spike Youth Bull Elk
Image 25 / 30
Roylen Latone 7x7 Bull Elk
Image 26 / 30
Terrance Smith 5x6 Youth Bull Elk
Image 27 / 30
Todd Etsate 5x5 Bull Elk
Image 28 / 30
Trevor Martensen 7x7 Non-Zuni Resident Bull Elk
Image 29 / 30
Ty Penketewa Rifle Antelope Buck
Image 30 / 30
Tyano Pinto Archery Antelope
❮
Previous Image
❯
Next Image
---
General Information
The Zuni Fish and Wildlife Department has managed and protected Zuni Tribal lands since 1968. In the past years, we have established a reputation as one of the most innovative and productive tribal wildlife management agencies in the country. We have become national leaders on issues such as tribal management of endangered species and migratory birds, riparian restroration, wetlands protection (we have been nominated for a national wetlands management award by the U.S. EPA), and tribal use of eagles. Some of the projects which we have completed over the last 5 years include:

• The Zuni Community Live Eagle Project (the first and only in North America)
• Creation of sensitive species and law enforcement MOAs with the US Fish & Wildlife Service
• Establishment of a wildlife habitat restoration program
• Initiation of prescribed fire program
• Wild turkey reintroduction
• Establishment of a Riparian/wetlands restoration program
• The initiation of a program to construct wetlands from sewage effluent
• Establishment of a trophy big game hunting program
• Membership on the federal southwestern willow flycatcher recovery team
• Membership on the USDA New Mexico State Technical Committee
• Establishment of a wildlife research program

Hunting and Fishing: The department offers a variety of hunting and fishing opportunities. Hunting permits for the general public are available for dove, waterfowl, small game, coyotes, and predator calling.
Big game: Tags are available on a limited basis, but the hunting opportunities are outstanding. Bow, muzzleloader, and rifle hunters will enjoy the challenge of hunting in this spectacular setting. Several 400+ elk have been taken on the reservation in recent years and our elk population is expanding. Please call the department for details and current prices of permits.
Fishing: 3 lakes (Nutria #4, Eustace, and Ojo Caliente) are stocked with with Rainbow Trout, Channel Catfish, and Large Mouth Bass (Ojo Caliente only). We offer some of the best fishing opportunities in northwest New Mexico.
---
Staff
| Vacant | Melissa Peyketewa |
| --- | --- |
| Zuni Fish and Wildlife Director | Zuni Fish and Wildlife Admin Assistant |
---
Contact Information
Pueblo of Zuni Fish and Wildlife
P.O.Box 339
Bldg #06A, Route 301 North
Zuni, NM 87327
Phone: 505.782.5851
Fax: 505.782.2726